It's all over?
That's how I felt Sunday afternoon, after a week of beer drinking events, concerts and weekend visitors in my apartment. I don't think I've been this active since college! Mrs. Chris2 and I decided to rest and recover with a very lazy Sunday evening of eating pizza while watching movies (Before the Devil Knows You're Dead, Shaun of the Dead) and TV shows (Mad Men – second season starts July 27th!). This is likely to continue tonight.
You've already read about the Hoosier Beer Geek escapades earlier in the
week
, but Friday night found me at
The Lawn
to see a double-bill of
Umphrey's McGee
and
Sound Tribe Sector 9
. This probably sounds crazy but I actually consider myself lucky that the beer selection there was less than stellar. After four straight days of drinking craft brew, including an especially hearty night on
Thursday
, I was feeling a little bit beer fatigued. Sucking down $6 Coors Light tall boys really put me back in the mood for something with more flavor on Saturday!
If you've been to the Indiana Microbrewer's Festival in recent years, just plug in your memory of the forecast: HOT AND SUNNY (with choice flowery words for fun). There were decidedly more people than previous years -- estimates are around 4000, about 25% more than last year. Just an hour in, hardly any tables had fewer than 10 people in line, with many more at the most popular breweries. Luckily, most lines moved fairly quickly and forced waiting between samples isn't necessarily a bad thing!
Some favorite beers of the day:
Favorite 'hit the spot' beer

: Founders Dumbo Head (a tribute to Three Floyds Gumballhead)

Favorite 'special for the fest' beer

: New Albanian Porter aged in a special cask (anybody out there remember the cask type?)

UPDATE: from Roger Baylor at New Albanian: "It was a pin that originally poured JW Lees Vintage Harvest Ale (Port Barrel Conditioned), into which we racked Bob's Old 15-B Porter from NABC."




Favorite 'they did WHAT?' beer

: Hoppin Frog Porter 'dry beaned' through coffee beans

Favorite 'tapped and kicked while I was waiting to piss' beer

: Founders Kentucky Breakfast Stout (fun fact: 5 gallons divided 4000 ways is 0.16 oz/person)

Favorite 'new' beer

: Schlafly Reserve Imperial Stout (previously reviewed here)


Favorite 'caveat' beer

: New Albanian Phoenix ("but you better like sour...")

Favorite 'perfect timing' beer

: Three Floyds Alpha King (served by a 3F staff member from a pitcher while waiting in the HUGE line for Dark Lord)

Most disappointing moment of the day (you know, besides missing out on Founders KBS): realizing that I had missed an entire side of one tent, including Indiana new-comers Brass Monkey and Half Moon. Better luck next year.
Some photos of the day: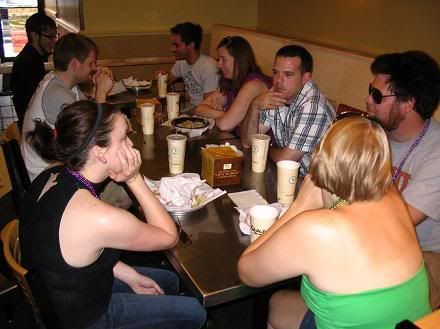 The Electric Boogaloo crew and friends recover
from various Friday night activities and pre-load
at Qdoba for the Microbrewer's Festival.

Chris2 (right) with bro Brian, enjoying an Alpha King (or two).
For once, Rod (right) is the one looking normal in a picture.
Charlie@Brugge with the "Coming soon....coming
soon....coming soon...." Tripel de Ripple bottle.
Leaving the fest....yes, that guy is wearing a box on his head.