How do $1.00 tacos and $2.50 pints of beer sound to you? Yeah, me too -- they've sounded pretty good, oh, basically every Monday since I discovered the convergence of
Adobo Grill's
(110 E. Washington St., 317-882-9990, non-smoking) $1.00 happy hour taco special (M-F 4-6pm) and their Monday $2.50 draft special. It only made sense to drag along my fellow Knights for a trek to Adobo Grill on a recent Monday afternoon.



The classy, brightly-colored bar at Adobo Grill

.
Attentive and classy bartender--check.
Guacamole and tortilla chips--check.
A crisp, refreshing pilsner--check.
A weird lime juice/tomato juice/hot sauce/beer cocktail--check.
This was the recipe for our roundtable at
Adobo Grill
. The bartender, whose name I did not catch, was attentive to our every need. The guacamole, which is made fresh and by-the-batch for each customer who orders it, was fantastic. It was the perfect blend of avocado, onion, lime juice, cilantro, tomato, and all the other goodies that go into a second-to-none guacamole. The pilsner was
Upland's Preservation Pilsner
, which this lager aficionado quite liked, and which paired quite well with the guacamole. Preservation Pilsner had the classic golden lager hue, biscuity nose, and sweet and grassy finish. It carried a nice hop bite as well, which lent it a good heft that kept it from coming across as watery. All in all, an impressive pilsner, and one that I wouldn't hesitate to stock my fridge with for hot summer days.
3.80 Mugs.
The weird beer cocktail was a
Michelada
, which I chose to cap off my visit. Because the KOTBR
groove on
beer/tomato juice cocktails
, Jason and I decided to try Adobo Grill's contribution to the beer cocktail world. Jason chose
Sol
for his beer mixer; I chose
Pacifico
. The result for me was a bizarre, fizzy drink that was kind of like tonic water hopped up on hot sauce and lime juice. Not my bag, but I'd encourage adventurous souls to give it a try. Maybe you'll like it better than I.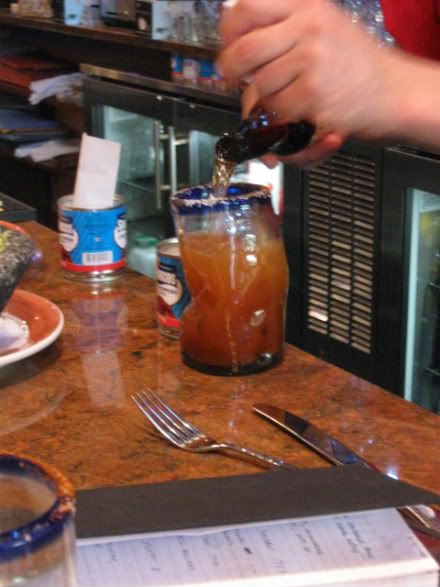 Michelada Pacifico
I love sitting at a bar. Sitting at a bar is a communal exercise. You are rarely alone at a bar, even if you arrived by yourself. You always have the bartender to talk to. And even if you choose not to talk to the other bar patrons, you always have great people watching fodder. Sitting at a bar is a great experience.
When sitting at a bar at a nice restaurant, the experience is even greater. You get all the ambiance but often at a cheaper price. $2.50 pints on Mondays. $1.00 tacos from 4pm to 6pm weekdays. That makes for a cheap meal!
I will recommend splurging on the guacamole (but not the Michelada…more on that later).
There are several taps at Adobo. Three of them had craft beer: Bell's Two Hearted, Bell's Oberon, and Upland's Preservation Pilsner. We opted to review the pilsner.
It is a clear, golden beer with a foamy, white head. The lacing really sticks to the side of the glass. The mouthfeel is crisp and it has a subtle lemon flavor to it. The beer is refreshing; it really pops. This is a beer that would help macro drinkers cross over, yet it is so well crafted that most craft beer drinkers should really enjoy this. And it matches well with the battered fish tacos. I happily give this beer
3.70 mugs
. It is a simple beer done really well.
Now the Michelada, that's another story.
Sol plus sangrita (tomato, grapefruit, orange, and lime juices) plus seasonings (worchestire, ancho peppers, purple onions, and other stuff).

It is beyond the Chelada that Brugge's Ted Miller frequently makes. The tomato doesn't take the lead with this; the citrus juices, peppers, and onions pop out. It's like a drinkable fruity salsa. Refreshing up front, but burns in the back. This isn't bad, but a big 16 ounce glass is too much. Buy one and share it with four friends. That would be about right.
The evening's featured beer,
Upland's Preservation Pilsner
, nicely complemented the food at Adobo's Happy Hour. The beer's lightly citrus aroma led to a bready flavor and finished crisp and dry. This is a fine beer worth revisiting again, preferably outside when it's hot...maybe with some barbecue.
3.75 Mugs
The michelada? Um, it came in a cool glass.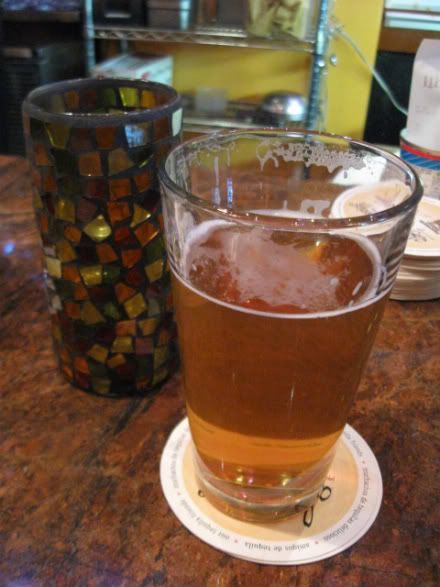 Upland Preservation Pilsner
Count me among those who generally aren't too keen on beers made with lager yeast. I'll admit that's a broad stroke, but I find the wide range of flavors produced by ale yeasts much more interesting. Given my prejudice, Upland Preservation Pilsner had a hill to climb. I have to say, though, this is one mighty fine pilsner. Crystal clear, bready and crisp with a dose of grassy hops, this is a beer that can really quench your thirst -- perfect for spicy cuisine such as Mexican. Nothing fancy, just a great lawnmower beer.
3.60 Mugs.
Upland Preservation Pilsner
Jim 3.8 mugs Jason 3.7 mugs Gina 3.75 mugs Chris 3.6 mugs
KOTBR Score - 3.71 Mugs