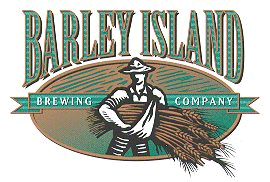 Normally, the Knights of the Beer
Roundtable
are able to agree on a beer for reviewing and then drink it together at the same time. Our night at
Barley Island
was a bit looser. We all drank several of the beers they have on tap, plus a couple that weren't. In the end, we came to a general consensus to review the two Bourbon Barrel beers that we sample, the Oatmeal Stout and the IPA. This review resulted in some of the widest ranges of beer ratings. Here are the Knights' ratings and postings,
beginning
with the Bourbon Barrel IPA:
Mike starts us off
on way he gave it a 2.5 mug rating...
I am not a drinker of hard liquor, so neither bourbon beer was particularly suited to my tastes...If you had blindfolded me and placed the glass in front of me I never would have suspected I was smelling beer...A sip of the IPA really brought out the bourbon, with a slightly flowery,

hoppy

note mixed in. It really tasted very similar to the way it smelled.
Jason follows
by giving the IPA a knockout 3.5 mug rating...
[It is] an IPA that is heavy in bourbon aroma and strong on alcohol flavor. It's an incredible one-two punch. POW! Strong bourbon bite comes from the left.

BAM

! The IPA

hoppiness

punch comes in from the right. If you are a gluten for punishment (I am), this beer is right up your alley.
And here is what the Knights said with the more popular Bourbon Barrel Oatmeal Stout:
Mike again starts
, this time giving the beer 3 mugs...
I felt like the bourbon worked better in the stout...it made me think of film

noir

, cigarette smoke, and contemplative depression. But in a good, sort of romantic way.
Jason riffs
on the stout, giving it a 4.5 mug rating
...the Stout takes on my favorite characteristic of bourbon: the caramelized malt flavor and aroma. The beer's aroma had a subtle hint of bourbon and the malty goodness that you appreciate in a stout is emphasized even more with the added bourbon component.
Chris finishes
the geeky review by concurring with Jason and giving the Stout a 4.5 ...
...it was better the warmer it got...this is a really good beer, especially if you still have a stomach of steel and can take bourbon...
Can you guess who the Hoosier Bourbon Geeks are? Find out by checking out the individual reviews...