You know what's really stupid? Ordering fresh fish to be picked up on a Friday when you've got a full weekend of activities planned, guests staying for the weekend and no opportunity to cook it until at least Sunday. Make that Monday. Expensive dead fish doesn't like to sit for 3 days.
So, instead of another lazy recovery night on Monday, we had to figure out where to eat. We decided to try someplace new, or at least a place we hadn't been to in a while. For some reason, my mind immediately went to the area around the intersection of Washington and Pennsylvania Sts. in downtown, which is really starting to pop as a restaurant destination.
For some time, this area has been anchored by upscale steakhouses
Morton's
and
Mo's
. In recent years they've been joined by Coaches Tavern,
Vito's on Penn
,
Andrus O'Reilly's
,
Fogo de Chão
and Dunkin' Donuts. Throw in
Adobo Grill
,
Buffalo Wild Wings
and
Scotty's Brewhouse
-- all three currently under construction and set to open in the next six months or so -- and there is going to be a LOT of beer flowing in this area in 2009. We narrowed down our selection to Vito's and Andrus O'Reilly's and, after looking at the online menus, settled on the latter (AO's).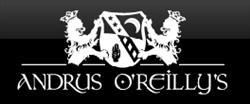 AO's is a nice medium-sized restaurant set up with four seating areas: the bar, the tables, the lounge and the outdoor area. The crowd was pretty sparse on Monday night, with just a single bartender pouring drinks and serving food. We knew we wanted to sit outside but decided to hit the bar area first to see what beer they had available. They have 12 taps with a lot of the usual macro/import suspects. Here's what I can remember:
Smithwick's
Newcastle
Guinness
Blue Moon
Sam Adams
Miller Lite
Budweiser
Bud Light
Coors Light
Stella Artois
The real shocker came when I looked down behind the bar and saw the selection available in the coolers. It isn't a huge selection, but very good options compared to the taps:
Three Floyds Alpha King
Three Floyds Robert the Bruce
Duvel
Goose Island Pere Jacque
Goose Island Matilda
Bell's Oberon
And many more...
Monday's are $3 import pints, which unlike other places, literally means the imports: Smithwick's, Newcastle, Guinness and Stella. We decided to go with the deal and got a
Smithwick's
and a
Newcastle
, easy drinking beers that don't demand a whole lot of attention (remember, we're still trying to relax!). For food, the
entire
menu is under $10, with the majority under $8. The cheddar bacon burger ($8.49) and the chicken fajita wrap ($7.95) sounded good to us. The burger was about what you'd expect for the money – solid but nothing to write home about -- while the chicken fajita wrap was surprisingly good! Well-seasoned chicken, perfectly cooked peppers and onions and a nice little jalapeno kick to boot. My wife ordered the wrap so I only got a couple bites, but it made a very good pairing with my Smithwick's, the slightly sweet malt flavor helping to cut the jalapeno heat.
I can easily say that we'll be back to explore some more of the menu at AO's, though I'll probably look to the bottled beer selection next time.
(Apologies about no pictures with this post. Luckily, you can get a really good impression of the place from the Gallery on their webpage.)