In just a few short weeks, downtown Indianapolis' newest independent restaurant, Zing, will be opening. The two-floor restaurant is housed in a classic old building at the corner of West St. and Indiana Ave. that was most recently home to a restaurant called Payton's Place. In the process of a complete rehabilitation of the building, a wrap around outdoor seating deck was added to the second floor.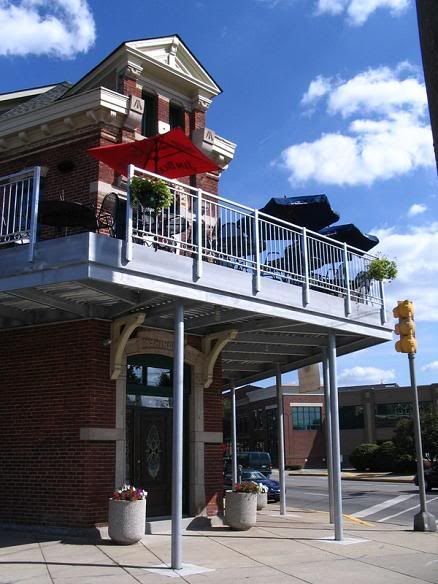 Other photos of the exterior work are available
here
.
Yesterday, I had the opportunity to take a look at the inside of the not-quite-finished restaurant and have a chat with the owners about their beer menu. They were good enough to allow me to snap a couple pictures at the same time.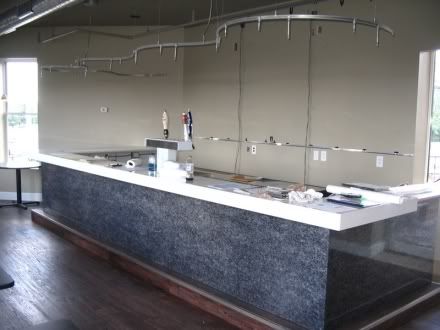 The beer selection at Zing will be eight beers on draft and an assortment of 25 bottles. That's not going to blow away the menus at the biggest beer bars around town, but that's a solid number. Taps are located on both the upper and lower levels of the restaurant and they plan to have the following beers on draft at their opening:
Bell's Oberon
Oaken Barrel Amber
Guinness
Blue Moon
Stella
Sam Adams
Bass
Bud Light
A very respectable selection. Would we like to see more beers from microbreweries? Sure, but this is a very good middle-of-the-road assortment that hits on many different beer styles and avoids having a tap stand completely full of macro light lagers. And if enough people show up and start asking for more craft beers, I'm sure they'd be willing to adjust their menu!
Another seating space on the south end of the second floor.
As for bottled beer, they're planning to have 25 bottled beers on hand. A sampling of the beers to be available includes:
Bell's Two Hearted Ale
Barley Island Barfly
Affligem Blond
Goose Island Honkers Ale
Brooklyn Lager
Delirium Tremens
To find out about the rest of their selection, you'll just have to stop in after they've opened.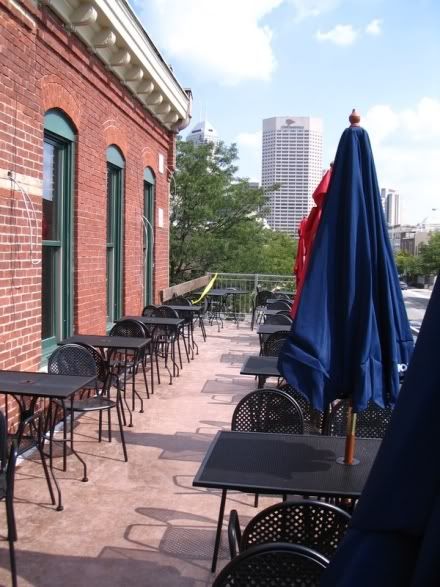 The outdoor seating area, looking southeast along Indiana Ave.
Zing will have seating for 150 inside and an additional 120 outside when weather permits. Alternatives to beer include a wide array of 50 wines as well as a martini menu, all of which will be collected with the beer options in a separate drinks menu. As for the food menu, word is that it will feature
small-plate dining
with "American, French, Mexican, Portuguese and Italian cuisine." Plates will be about $7-11. The owners are shooting for a Grand Opening around Labor Day weekend, so stop on by and welcome Zing to town!
(
More photos of the inside of Zing are available
here
.)