I don't know if you've heard, but Bell's Brewery has brewed a couple batches of beer. A couple THOUSAND batches of beer. Make that NINE thousand batches of beer.
Anheuser-Busch might snicker at that total, but count me impressed. I've brewed a few batches of homebrew and every single one is a bitch. Ok, fine, maybe it isn't a that bad, but I'm sure as shit never getting to 1000 batches.
It's a good thing Bell's is prolific so I don't have to be. Every time Larry Bell and his crew reach the magic threshold of one thousand batches, they mark the occasion by brewing a one-off Commemorative Brew creatively named for its batch number. Hence we have the Bell's Batch 1000s series.
I've been holding onto some of these Batch 1000s beers for several years -- no, I haven't had Batch 5000 in my possession for 8 years -- and I might have opened some earlier had I not expected an impending release of Batch 9000. You might recall that I made a logical, bullet-proof prediction about the
release date for Batch 9000
. I was only off by a full year.
Having finally, mercifully come to the release date of Batch 9000, I've been able to open up my stash of Bell's Batch 1000s beers.
Batch 5000
Style: Old Ale
Release Date: February 2002
ABV: 9%
Strange is about the best word I can use to describe this beer. The nose emitting from the glass is of alcohol and smoke. The taste goes from sweet to sour to sweet again in one fell swoop. The mouthfeel is mostly warming with a bit of puckering astringency. Though not necessarily my favorite of the verticals, it was amazingly complex and I am happy to have had the opportunity to try it after such a long time in storage.
Chris: 4.15 Mugs | Rod: 2.3 Mugs | Jason: 2.75 Mugs | Mike: 4.2 Mugs | Gina: 2.5 Mugs
KOTBR Score: 3.18000 Mugs
Batch 6000
Style: American Barleywine
Release Date: October 2003
ABV: 10.5%
The year 2003 was a big year for sequels. The Lord of the Rings, The Matrix, Terminator, X-men, Bad Boys... all of these movies had sequels in 2003 that captured 6 of the top 10 movie slots for the year. Now money isn't everything, so you can argue about the artistic success of these sequels. But it goes to show: we love a sequel.
So it's not surprising that people go ga-ga over verticals. They return again and again to see how things have changed since the last installment. Technically, this beer is the 5,999th sequel in Bell's long running series, but we're focusing just on the thousands. So I was happy to find that Batch 6000 was nothing like Batch 5000, which tasted like leftover Chinese restaurant beef in a bottle.
Batch 6000 is a barleywine. It had a tart, sweet nose that gave just a hint as to what you were in for with this beer. Butterscotch. Caramel. A bit of chocolate and dark fruits. It was thick, like a syrup. It didn't have the alcohol heat that you would expect from a 10.5% ABV beer, but I'm guessing that is what 7 years of aging will do. For me, this was the best of the evening's sequels.
Chris: 3.6 Mugs | Rod: 2.0 Mugs | Jason: 4.06 Mugs | Mike: 2.70 Mugs | Gina: 3.4 Mugs
KOTBR Score: 3.15000 MugsBatch 7000
Style: American Double/Imperial Stout
Release Date: September 2005
ABV: 12%
When a beer gets this old, there's a pretty good chance something is going to go wrong with it. The question is "did this go wrong in a good way?"
Batch 7000 is a dark brown beer, with minimal lacing. Notes of boulion, wet dog, molasses, and pretzel are evident in the front and middle, with a finish that jumps up with grassy and earthy and still hoppy flavors. Mouthfeel is chewy, and the beer still has quite a bit of alcohol heat. This might be a candidate for further aging.
I have no frame of reference for how this beer started, but I know it's pretty good right now. And if it's gone wrong, it's also gone right. 4.35 Mugs.
Gina: 3.00 Mugs | Chris: 3.27 Mugs | Rod: 3.0 Mugs | Jason: 3.7 Mugs | Mike: 4.35 Mugs
KOTBR Score: 3.46000 Mugs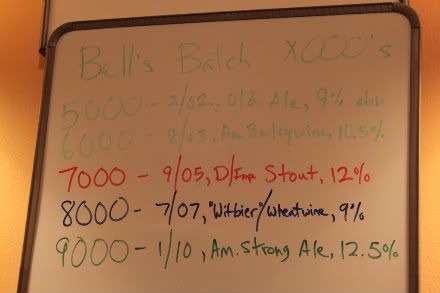 When you've got a lineup this motley,
you need a board to keep it all straight.
Batch 8000
Style: Witbier (according to Beer Advocate), Wheatwine (according to Bell's rep Veronica)
Release Date: July 2007
ABV: 9%
The Bell's 8000 Batch received a bit of negative fallout in the beer community because of the explicit warning to drink this beer fresh. Many people like anniversary beers to be big and able to stand the test of time. Despite this trend, Bell's brewed a Belgian Wit for the 8000 Batch that leaned toward the imperial side.
Throwing caution to the wind, Chris decided to age this one anyway and I'm glad he did. This beer developed into a sweeter, complex Belgian treat. The smell brought to mind a hybrid of Tripel and Wit with the familiar qualities of coriander, orange, pepper and lemon zest topped off with sweet honey. This beer definitely lived up to what its aroma advertised, maintaining all of the expected fruits and spices but with a pleasantly spicy cinnamon finish.
Maybe it wasn't designed to be aged, but it has certainly held up well. I think I enjoyed the aged variety more than I did when it was fresh. 3.7 mugs
Mike: 4.37 Mugs | Gina: 3.3 Mugs | Chris: 3.9 Mugs | Rod: 3.7 Mugs | Jason: 3.68 Mugs
KOTBR Score: 3.79000 Mugs
Bell's Batch 9000: HBG Tested, Mother Approved.
Batch 9000
Style: American Strong Ale
Release Date: February 2010
ABV: 12.5%
For all the time we've waited for Bell's to release this beer, the table seemed to agree that Batch 9000 is not quite ready. But what the hell, we're here to review beer.
This beer is the brand new baby in the series. And, my god, this baby is hot, sweet and thick! The smell is of dark fruit and brown sugar (no doubt from the molasses used in this brew), with a hint of coffee. Licorice comes through in the taste, along with toffee and raisins. It finishes on the dry side with a slight alcohol burn that lingers.
Batch 9000 is a huge beer and, like its brethren, should age well for years and years. But don't let that stop you from trying a bottle now!
Mike: 3.1 Mugs | Gina: 3.3 Mugs | Chris: 3.4 Mugs | Rod: 3.9 Mugs | Jason: 3.49 Mugs
KOTBR Score: 3.44000 Mugs
As of April 7th, the most recent batch in Bell's online system is Porter. It was packaged March 26th and is considered Batch 9645 -- only 355 batches to go until Bell's next Commemorative Brew!