Last August
, Knight Chris introduced us to
Zing!
, a small plates restaurant and bar at the corner of Indiana Avenue and West Street in downtown Indianapolis. There are two things we wanted to bring to your attention.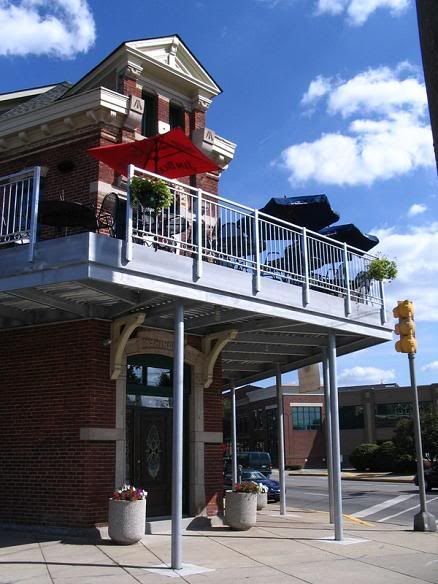 First, their beer menu. According to their website, it includes:
Draft beer:
Stella Artois 4.75
Guinness 5.75
Blue Moon 4.75
Sam Adam's Seasonal 5.00
Bass 4.75
Bell's Seasonal 4.75
Three Floyds Alpha King (Indiana) 5.00
Brugge White (Indiana) 5.00

beer flights
[ Draft Only • Three 5oz. portions ]
choose any three 8.00

Bottled beer:
Barley Island Barfly IPA (Indiana) 4.75
Three Floyds Gumballhead Wheat Ale (Indiana) 5.00
Three Floyds Robert the Bruce Scottish Ale (Indiana) 4.75
Upland Wheat (Indiana) 4.50
Dogfish Head 60 Minute IPA 4.75
Goose Island Honker's Ale 4.75
Victory Prima Pils 4.75
Flying Dog Gonzo Porter 5.00
Shiner Bock 4.75
Leinenkugel Sunset Wheat 3.75
Sierra Nevada Pale Ale 4.50
Killian's Irish Red 3.75
Sam Adam's Lager 3.75
Delirium Tremens Belgian Strong Ale 9.00
Affligem Blond 6.00
Linderman's Framboise 10.00
Piraat Belgium Strong Ale 10.5% 8.00

There are other domestic and import beers available. Of particular interest, on Tuesdays (like today) they have a special: Hoosier Beer Night. All Hoosier Beers are $3. Sounds like a good time for Hoosier Beer Geek to visit. Maybe around 8:30pm tonight.
Secondly, on April 26th, at 6pm, Zing! will be hosting a seven course beer dinner. The cost is $30. RSVP at 317.636.7775, or at
zingrestaurant.com
. This can either be a great finish to a great beer weekend (
Dark Lord Day
is that weekend) or the highlight for those without Golden Tickets. Either way, food and beer equals fun. The menu submitted to us is below and is subject to change:
Course 1
Gaspacho with avocado creme fraiche and grilled goat cheese crostini soup
Bell's Oberon

Course 2
Grilled Vegetable salad with cappacolla, genoa salami, and provolone
Three Floyd's Gumballhead

Course 3
Asian meatballs with glass noodles and soy lime drizzle
Brugge White

Course 4
House made crab cakes with spicy remoulade
Three Floyd's Alpha King

Course 5
Chorizo stuffed dates wrapped in bacon and simmered in a sweet pepper tomato sauce
Dogfish Head 60 Minute IPA

Course 6
Cappacolla wrapped pork tenderloin pepper crusted and served with savory bread pudding and mustard sauce
Piraat Belgian Tripel IPA

Course 7
Chocolate pots de creme topped with fresh whipped cream and candied ginger
Flying Dog Gonzo Porter