Where
: Barley Island Restaurant and Brewhouse (701 Broad Ripple Ave., Indianapolis, IN) and Barley Island Brewpub (639 Conner St., Noblesville, IN)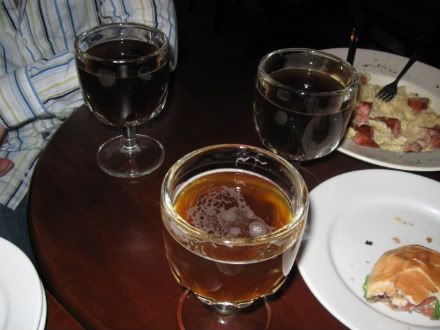 Oak Barrel-Aged Barfly IPA (foreground) and Dirty "Old" Helen.
Who
: Barley Island Brewing Company
Why
: A simultaneous celebration of 10 years at the Barley Island Brewpub in Noblesville and the Grand Opening of the Barley Island Restaurant and Brewhouse in Broad Ripple!
What
: The event was marked with a tapping party featuring the seasonal release of Black Majik Java Stout and Beastie Barrel Stout, as well as special tappings of Oak Barrel-Aged Barfly IPA and the brewery's 10th Anniversary beer, Dirty "Old" Helen Sour Ale (a
Flanders Brown
).
When
: The offical celebration lasts from December 4th to the 7th. The beers were tapped December 4th and will be available while they last (the seasonals should be available for some time, while the special beers are advertised as "limited quanity").
Babies are welcome at Barley Island Restaurant and
Brewhouse......welcome to sleep right through special tappings.
Also Worth Noting
: New Albanian Brewing Company will be the feature guest beer at Barley Island in December starting next week. There will be 4 NABC beers on draft starting next week including 15-B Porter, Beak's Best American Bitter, Elector Imperial Red and a special keg of Hoptimus Imperial IPA!! There will be a special tapping of the Hoptimus next Wednesday (12/09) evening with some of the NABC crew present for the festivities. This will be the only keg of Hoptimus tapped north of New Albany this year, so make sure to be there for the big event!!
Elector might be on tap already.