For someone new to craft beer, advanced topics like
styles
and
ingredients
can be a little overwhelming. Even a trip to your local craft beer seller can seem like a test. What's with all the weird beer names? What's the difference between ale and what I normally drink? And how in the hell can I keep straight all the different craft brewers out there?
We're certainly not here to make fun of what you drink. That's because we all started where you are right now. But if you're looking for a way in, your best bet is to start by
just drinking better beer
.
We like to help where we can. Therefore, here's our list of Indiana-brewed "gateway" craft beers that are good alternatives to the mass-market macrobrews that you see overloading the shelves of some liquor stores and hogging the tap lines at some watering holes:
A Hoosier Beer Geek alternative to Budweiser, Miller, or Coors:
Sun King Brewing Company's Sunlight Cream Ale.
Let's say that you've been drinking Bud, Miller, or Coors since you were legally old enough to drink beer (or maybe before you were legally old enough to drink beer) and are looking to dip your toe into the craft beer pool. Chances are that you're not looking for a huge change from those beers, but you want to try something that you'd be proud to drink because it's locally brewed. Indy's craft beer giant Sun King has just such a gateway beer in Sunlight Cream Ale. Cream ales are very similar to the style in which Bud, Miller, and Coors are brewed; they usually have a moderate bitterness and a nice bready malt flavor. Sunlight Cream Ale adheres to this flavor profile but carries a bit more sweetness in the malt. Blonde ales also fit this flavor profile, so we've listed a few of those below as well.
See also
: Fountain Square Brewery's Tractor Head Blonde Ale, Ram Restaurant & Brewery's Big Horn Blonde Ale.
A Hoosier Beer Geek alternative to Guinness:
Broad Ripple Brewpub's Monon Porter.
If you like Guinness Stout, you undoubtedly enjoy the roasty flavors that are present in that beer. But craft-brewed stouts tend to be a bit much for some craft beer beginners because the chocolate and coffee notes are magnified, so much so that some of these beers drink almost like an alcohol-infused double chocolate milkshake. But if you want something that's not a radical departure from Guinness, we recommend
Broad Ripple Brewpub's Monon Porter
. You may be wondering, "Isn't a Porter different from a Stout?" The answer to that question is, "No, not really" (though in the interest of disclosure, some beer geeks would disagree). In fact, Monon Porter will provide you with a creamy consistency that's somewhat similar to what you'd get in a Guinness, especially if it's on the
hand-pull
at the pub. Plus, you'll get a little extra sweetness to back up the roasty flavors of the beer. Monon Porter is one of our
top five beers
under
our arbitrary mug rating system
.
See also
: Fountain Square Brewery's Backyard Porter, Flat12 Bierwerks' Pogue's Run Porter, New Albanian Brewing's Bob's Old 15-B Porter, Rock Bottom Brewery's Hoosier Ma Stout (oatmeal stout or dry stout variety).
A Hoosier Beer Geek alternative to Blue Moon:
Brugge White.
Blue Moon is brewed in the Belgian witbier style. Wits, as they're known, are usually brewed with coriander seed and orange peel, which produces the spice and citrus flavors one gets out of a beer like Blue Moon. If you're going to drink a Belgian-style beer in Indiana, why not drink one from a local brewer who specializes in Belgian-style beers rather than a beer brewed by Coors? Broad Ripple's
Brugge Brasserie
has been brewing outstanding Belgian-style beers for nearly seven years now. While more radical Brugge brews like their fruity and sour Pooka are what we often crave, we still enjoy Brugge White when it's on at the Brasserie. This beer exemplifies the Witbier style with its melding of citrus tartness and coriander spiciness.
See also
: Oaken Barrel Brewing Company's Alabaster Wit, Upland Brewing Company's Wheat Ale.
A Hoosier Beer Geek alternative to Newcastle
:
Barley Island Brewing Company's Dirty Helen Brown Ale.
If you're drinking Newcastle Brown Ale, you're probably the type of beer-drinker who's looking for a little more "heft" in the flavor of your beer. Barley Island's
award-winning
Dirty Helen Brown Ale is an Indiana beer that might satisfy this preference for you, but be prepared: this beer is going to give you a fuller roastiness than Newcastle provides, along with a slight hint of nut, chocolate, and caramel. We don't feel that it's a huge adjustment from Newcastle, but we do believe that it's a nice step up in flavor.
See also
: Crown Brewing Company's Crown Brown, Sun King Brewing Company's Wee Mac Scottish Ale, Three Floyds Brewing Company's Robert the Bruce.
A Hoosier Beer Geek alternative to Heineken, Amstel Light, or Stella Artois
: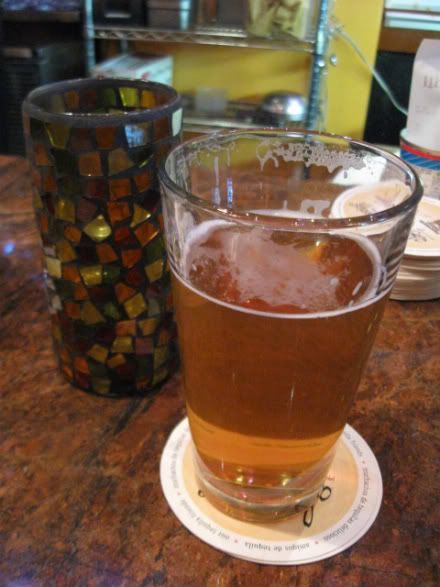 Upland Brewing Company's Preservation Pilsner.
If you're holding a European lager like Heineken or Stella in your hands, you're holding a beer that's from the pale lager family. This family of beers includes the Pilsner style, which originated in what is now the Czech Republic. Like its European pale lager cousins, Pilsners are crisp, refreshing, and slightly more bitter than a Bud, Miller, or Coors. Bloomington's Upland Brewing Company makes a Pilsner that has become
a Hoosier Beer Geek favorite
. Preservation Pilsner is flavorful, but not so off-the-charts flavorful that palates not used to a true Pilsner will be shocked by it.
See also
: Fountain Square Brewery's Workingman's Pilsner, People's Brewing Company's People's Pilsner.