On January 28, the Brewers of Indiana Guild will stage the fourth annual
Winterfest
, which will of course feature offerings from Indiana's craft breweries. In honor of Winterfest, we've decided to focus most of our posts this month on Indiana beers. After all, this blog is called *Hoosier* Beer Geek.
As part of this focus, we thought it would be a good idea to shine the spotlight on Indiana beers that are overlooked or underrated--the unsung heroes of Indiana craft beer, if you will.
Admittedly, our methods in picking these beers are not scientific; some of the beers that we'll talk about have won awards. Yet these award-winning beers are often left out of the conversation when beer geeks in this state discuss their favorites, which is why these beers are on our list of unsung heroes. In addition, our list of unsung heroes is going to focus on only one beer from each Indiana brewery we discuss. This means that other beers from the same brewery that aren't on our list may be worthy of being included as an unsung hero. Further, we may have omitted a brewery who brews one or more beers worthy of the unsung heroes list. In that case, please leave a comment noting the beer/brewery that you think should have been included.
First up, we'll focus on a style that many beer geeks seem to overlook, dismiss, and sometimes malign: lagers. Let's face it--many if not all of the most acclaimed beers in this state are ales, not lagers. But Indiana breweries are producing some fantastic lagers. We'd like to focus your attention on two:
Upland Preservation Pilsner
and
People's Pilsner
.
We reviewed Upland's Bohemian-style pilsner
a few years ago
and were left craving more.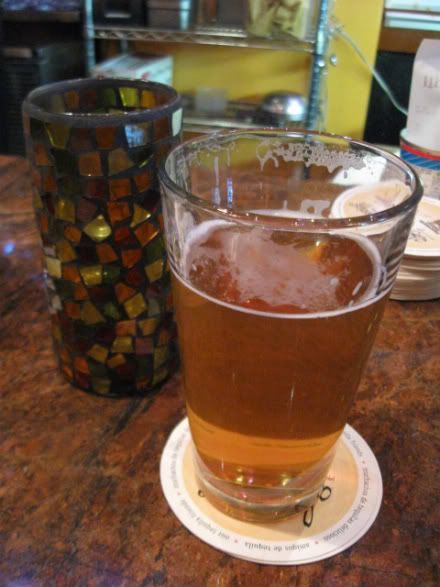 Here's what we had to say about Preservation Pilsner at the time:
Jim: Preservation Pilsner had the classic golden lager hue, biscuity nose, and sweet and grassy finish. It carried a nice hop bite as well, which lent it a good heft that kept it from coming across as watery. All in all, an impressive pilsner, and one that I wouldn't hesitate to stock my fridge with for hot summer days.
Gina:: The beer's lightly citrus aroma led to a bready flavor and finished crisp and dry. This is a fine beer worth revisiting again, preferably outside when it's hot...maybe with some barbecue.
Chris: Count me among those who generally aren't too keen on beers made with lager yeast. I'll admit that's a broad stroke, but I find the wide range of flavors produced by ale yeasts much more interesting. Given my prejudice, Upland Preservation Pilsner had a hill to climb. I have to say, though, this is one mighty fine pilsner. Crystal clear, bready and crisp with a dose of grassy hops, this is a beer that can really quench your thirst . . . .
You can drink Preservation Pilsner with a good conscience as well because the brewery donates 10% of the profits from the sale of the beer to environmental causes.
As for People's Pilsner, we met for a roundtable last week in which we reviewed this spicy Dortmunder-style pilsner, so our complete thoughts on the beer are forthcoming. Suffice it to say for now that like Upland's pilsner, People's Pilsner is among the best Indiana lagers out there. Indeed, this beer makes us feel lucky that the good folks at People's make this beer fairly-widely available in Indianapolis.